Registration
Whether you are an OHBA member, an industry colleague, or just a fan of the outstanding work of Ontario Home Builders', we invite you to take part in this exciting and interactive event.
Registration is open and FREE to all!
Simply visit the home page and hit "Register Now!" to complete your registration.
Register before November 2, 2020 to receive a bonus code in our Play-to-Win challenge.
Be sure to register before the event day to ensure you are able to login to the portal prior to the show. If registering on event day, please allow 15-20 mins for your confirmation email with login details.
People Choice
This year's coveted People's Choice award will be voted on LIVE during the Awards of Distinction broadcast, November 10, 2020.
To cast your vote:
Register for the event on the home page.
You will receive a notification email in your inbox when the portal is open.
Login to watch the Enbridge Red Carpet Event and Awards of Distinction.
Host James Cunningham will tell you when it's time to vote.
Stay tuned until the end of the show to find out who takes home the coveted prize!
Play-to-Win
Are you in it to win it!?
Take part in the OHBA AoD Play-to-Win challenges to win fantastic prizes provided by our sponsors Enbridge, Federated Insurance and Rogers.
The winner will be announced LIVE during the AoD Broadcast, starting November 10 at 3:00pm EST.
How to play:
Register for the event on the home page.
Login to the portal to start taking on the challenge
Navigate to the "Play-to-Win" page using the menu on your left-hand side.
View the list of all challenges – each challenge will reward you with a different value of points.
All challenges require you to retrieve a code.
When you find or receive a code, come back here to the Play-to-Win page.
Click on the challenge you have received a code for, and enter the code for points.
Tips:
Codes are NOT case sensitive
Codes should be typed as one word (i.e. ontariohomebuilders)
Some codes will only be available for a short period of time – So be sure to enter them right away.
Have a pen and paper ready when watching the show – You never know when a code will be given!
Thank you to our sponsors for supplying our GRAND PRIZE :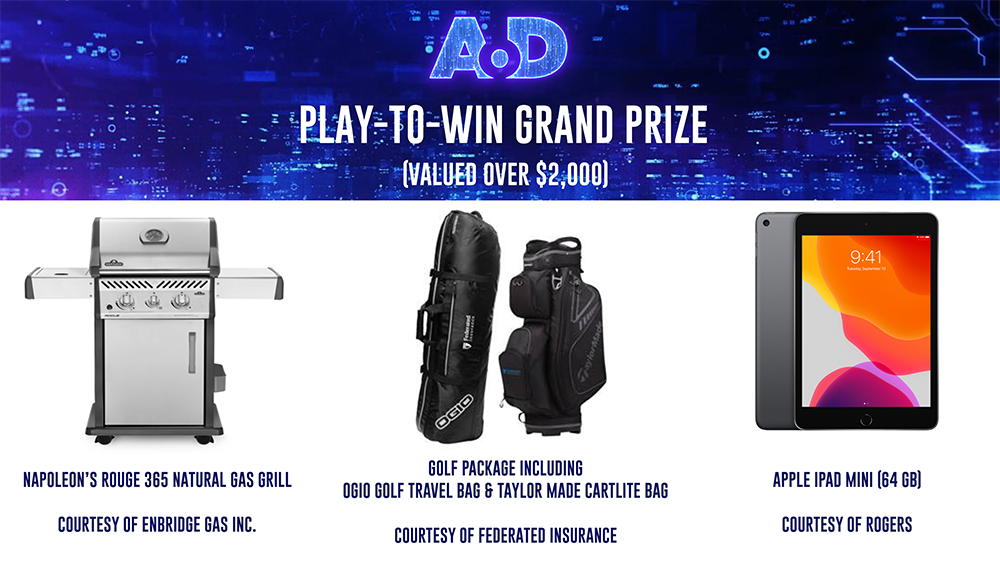 Additional prizes for our 2nd and 3rd place leaders.
In the event of a tie, we will draw a name from the leaders.
Thank you to our sponsors for supplying our GRAND PRIZE :
XYZ Barbeque
Courtesy of Enbridge
Golf Package including a Ogio Golf Travel Bag, and TaylorMade Cartlite Bag
Courtesy of Federated
Apple iPad mini
Courtesy of Rogers